My Princes and My Princess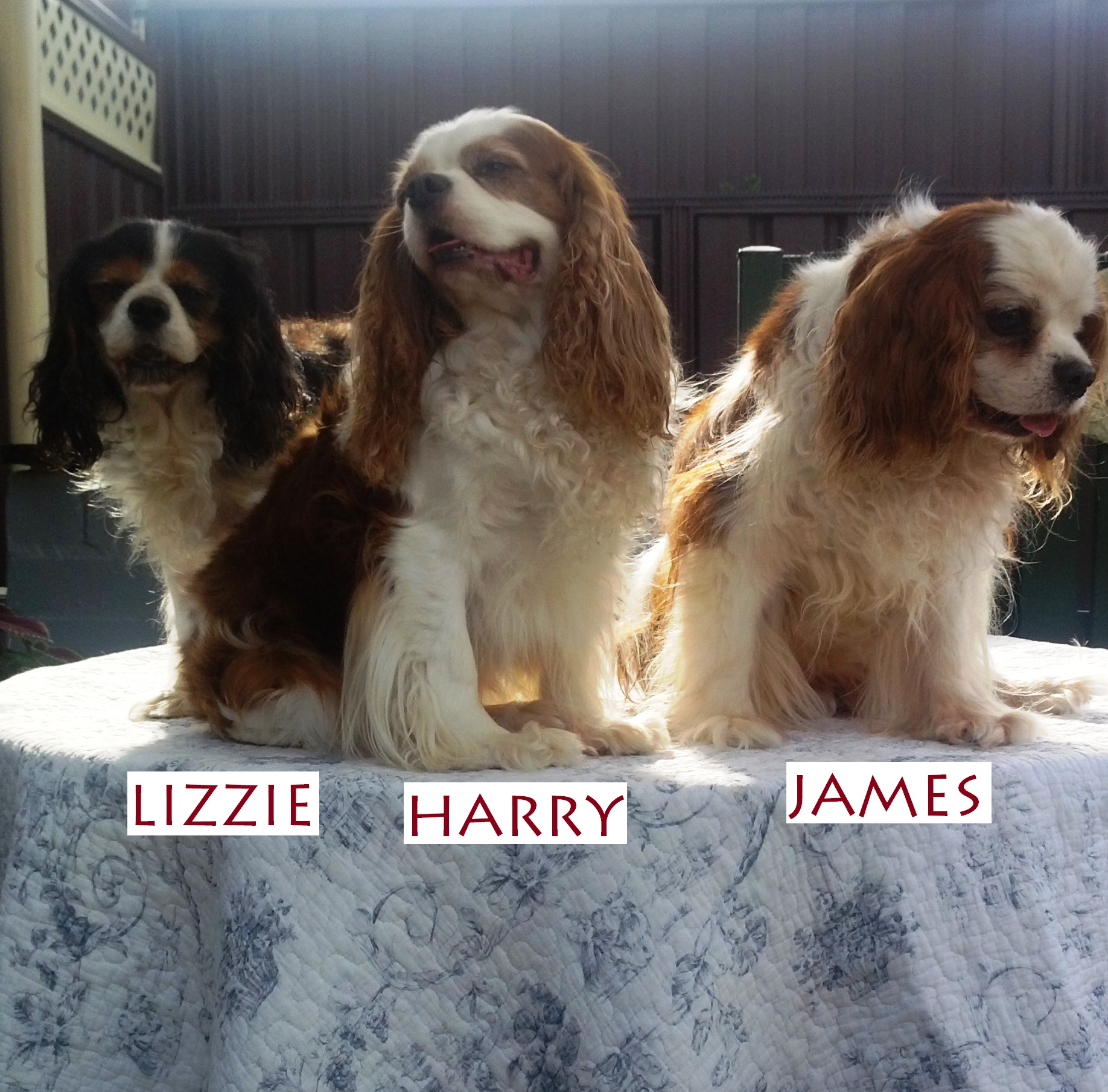 My Princes and my Princess have 4 legs. Harry, James and Lizzie are a unique trio, Cavalier King Charles Spaniels who give me much love and affection.
Harry arrived in October 2012. He had been a rescue dog and was named Harry after Prince Harry, and my late partner, Harold Ward, who was from Yorkshire, England. Harold died in Sydney on September 30, 2011.
I was travelling to the north of England in late May 2013 for a football function. This was to honour Harold's 1963 West Riding County  FA Challenge Cup winning team, in which he was the legendary goal keeper. I wrote, in April 2013, to Prince Harry to tell him that my new Cavalier was named after the two Harrys. His Press Secretary replied to me in late April, 2013. The 8 year old Harry has notoriety…….
Lizzie and James were also rescue dogs. They arrived in late March 2014 after Marietta had passed on. I named Lizzie after my late mother and for James – I needed a regal name to complement Harry's name.
The day starts with heart medication for Lizzie and James. Their dried food is waited for excitedly and consumed quickly. All three dogs make lively noises – we want our breakfast mum.
Lizzie and James spend considerable time sleeping, as they are elderly dogs. Lizzie is 14 and James is 15.   Harry, a graceful dog, is much more energetic and loves his walks. Passers-by admire this good looking and graceful animal. The children and old ladies in my neighbourhood have a pat, and Harry takes it all in his stride.
My 3 dogs enjoy a lovely garden. Their favourite pastime is to sleep on their outdoor dog beds whilst enjoying the sunshine. James however, who has only one eye, does not sleep outside often.
When I work at the computer my Princes and Princess sometimes join me. I hear the sound of gentle contented snoring. I completed my Moorefield Racecourse, Kogarah (1888-1951) book last year  with much  accompaniment. Lizzie sometimes dreams in amongst her snores.
The day passes on and my trio's tummies tell them that it is dinner time. James and Lizzie have their heart tablets one hour before eating, and dinner is quickly gobbled up. Cavaliers love food!
My dogs have 3 comfortable dog beds to sleep in. They often, however, prefer to sleep on substantial layers of rugs under my kitchen table.
At bed time, the Princes and the Princess sleep on a cotton cover on my bed. Such indulgences ………
The alarm goes off at 7a.m. and another day begins for my Princes, Harry and James, along with my Princess, Lizzie.
Harry's day begins with belly rubs; Lizzie likes to have a few belly rubs and to roll on the bed. Then, a full speed jump ensures that she is off the bed. James is content to wake up and go down the stairs at the side of the bed in a gentlemanly manner.
Lizzie is mischievous. She has devoured my slippers, chewed at my boots, and loves messing up the dog rugs under the kitchen table. She sometimes walks with her nose in the air. Lizzie has perfected the art of patrolling my hallway in the morning. This is always with a bark, at a timed interval. One would think she was doing guard duty at the Palace!
Of course the Princes and the Princess have a second mum, Rhonda, who looks after them when I am not here.
Harry, the Handsome Hound; Gentleman James and Lizzie Mayhem all have unique characteristics, and are loving animals. I adore them all. They are my Princes and my Princess!
Their Devoted Master
Anne Field
May  22, 2017