On Friday night, March 24, 2017 I flew Qantas to Perth. Anne, my school friend from Newcastle, collected me at Perth Airport, and we drove to her home in Bicton.
On the Saturday, March 25, 2017 I joined a friend for a trip by ferry to Rottnest Island. On Rottnest, we enjoyed the scenery, the quokkas, and watched swimmers arrive from Freemantle, in an almost 20 kms competition ocean swim. In the afternoon, we took a bus tour of the island. It was most interesting, as it shed light on Rottnest's fascinating history.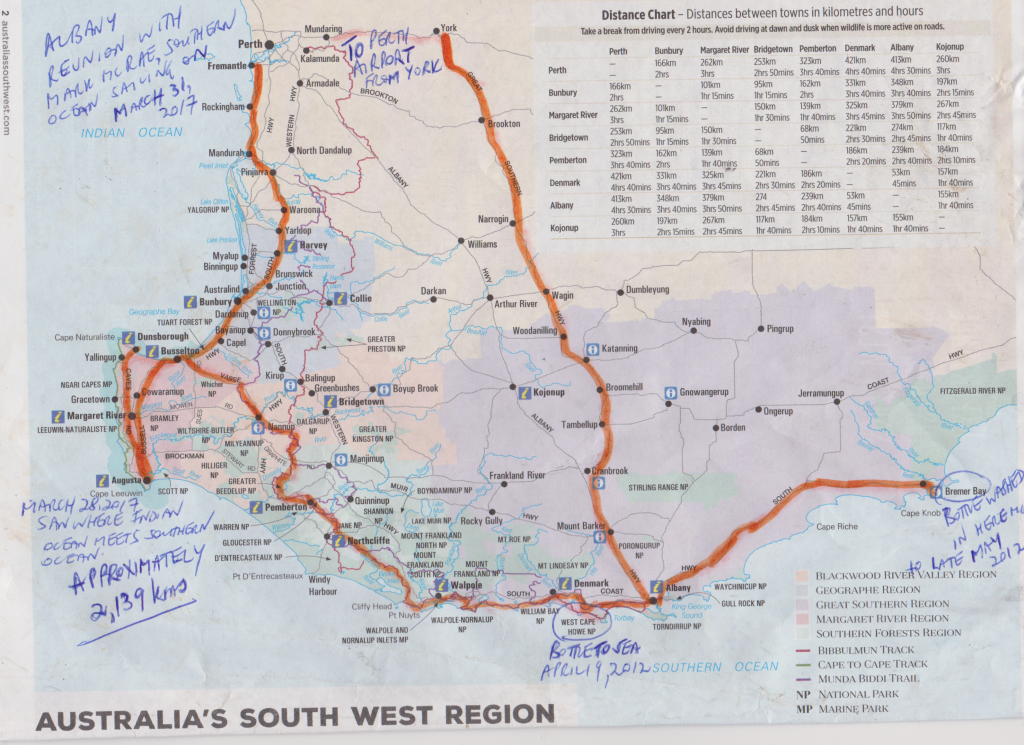 The appeared to be more facilities on the island from my last visit with Anne in 2007 or 2008. I recall staying with Harold, my late partner, in the resort on Rottnest Island for a few days –this included New Years Eve in January 1994.
Sunday, March 26, 2017 I caught up with my cousin, Rosanne whom I last saw in February 2014. We enjoyed a walk along the breakwater at South Beach, Freemantle and then went to the Freemantle Markets.
Monday morning, March 28, 2017 "the real journey was to begin." I said goodbye to Anne. Once we had collected the hire car on Monday morning, a friend and I could then leave Freemantle for our journey south.
We travelled to Busselton through Bunbury and Mandurah. Monday and Tuesday night we stayed in a well- appointed cabin at the Mandalay Caravan Park, Busselton. The park was beautifully laid out, and had lovely swimming pools.
On Tuesday, March 28th, 2017 we drove to the most westerly point in Australia – Cape Leeuwin, after lunch in Augusta. It was fascinating to see the lighthouse and the staff accommodation, recognising that they would be subjected to harsh weather conditions. Asbestos was being removed from the roof of one of the cottages. At Cape Leeuwin, the Indian Ocean and the Southern Ocean meet. For a former Geography teacher, this location was significant.
We had travelled to Cape Leeuwin through Margaret River, but wanted to return to Busselton by the alternative road to visit the Vasse Felix winery.
Wednesday morning, March 29, 2017 we walked part of the Busselton jetty as we had a long drive ahead to Albany. The train, which takes passengers the full length of the jetty, is a wonderful tourist attraction.
The drive through the karri forest was lovely. Timber trucks passed us as we journeyed on the narrow road. We stopped at Pemberton for lunch. Then on to Walpole, Denmark for late afternoon tea, and finally to Albany. We stayed in Big 4's Emu Point Beach Caravan Park in a well- appointed cabin. Again, the grounds of the caravan park were well presented.
I had come to Albany to catch up with Mark McRae of Southern Ocean Sailing. On April 19, 2012, Mark, Jenny and I sailed 60 nautical miles south of West Cape Howe, the most southerly point in Western Australia. The objective was to put a bottle, which contained my Grannie's life story, out to sea.  It was 100 years to the day since my Grannie had sailed past Albany, albeit at 46 degrees south. We made it to 36 degrees south on April 19, 2012.
My bottle washed up unexpectedly over one month later at Bremer Bay. It was found by a Perth fisherman as flotsam on the beach. Coincidentally, this fisherman lived one street away from my cousin, Rosanne in Jane Brook, Perth. The bottle was returned to me in late July 2012 in Perth, and I then recommitted it to the ocean on September 30, 2012 out of Eden. My story is on You Tube as Anne's Adventure-8 minutes.
A bottle, which I also committed with Grannie's bottle, was found by Jason and his niece, Tiah as flotsam on Farnborough Beach near Rockhampton, Queensland on March 30, 2015. The story featured in the Capricorn Coast newspaper in early April,2015.
According to the oceanographer at CSIRO in Hobart, my bottle is likely to have gone to the top of the North Island of New Zealand and caught the current. This then pushed it to Farnborough Beach near Rockhampton, Queensland. Grannie's bottle is still at sea.
On the morning of March 30, 2017 I took the opportunity to swim in the Albany Aquatic Centre. In the afternoon, we visited the National Anzac Centre, which has stunning views over King George Sound.   The museum is a wonderful tribute to our soldiers, who fought in World War 1. Nurses from the war are also acknowledged.
My late father's cousin, Claude John McLean Field from Melbourne enlisted, and was later killed in 1917 at Passchendaele. His diary, which I have read, is in the War Museum in Canberra. This moving document tells of his sea journey from Melbourne to the war zones.
At dawn on April 25, 1930 Padre White led parishioners to the summit of Mount Clarence, Albany to observe the laying of a wreath to the fallen. This site is widely regarded as the location of Australia's first dawn service.
March 31, 2017 we travelled from Albany to Bremer Bay for the day. After lunch at the Bremer Bay Resort, we went to Main Beach where my bottle washed in.
I wrote a message in the sand, and then photographed it. I put my feet in the water, which was very cold. Bremer Bay's scenery is stunning –a very high energy coastline, which hosts killer whales from May until October. I could not have wished for a more beautiful location for my bottle to wash in from the Southern Ocean.
Late Friday afternoon, Mark and his wife, caught up with my friend and I in the Due South Tavern at the Marina in Albany. The temperature had dropped outside – one wonders what winter is like in Albany!
We talked of our bottle journey of almost 5 years ago, amongst many other things.  Mark told me that his elderly father calls me "bottle Anne!" He also told the story of how exciting it was on November 1, 2014 to be in his yacht with passengers, and to be in amongst the naval ships and submarines  recreating the first convoy out of Albany on November 1,1914.
Sadly, we had to leave Albany on April 1, 2017 for a long drive to York . This took us through the wheat farming areas and some lovely country towns. Cranbrook was having a country fair, so we decided to stop and check it out.  I was able to purchase a lovey karri cutting board, as well as experience sitting on a bale of hay.
In York, we stayed at the quaint York Cottages, for 2 nights. This allowed us the opportunity to see York, Northam and Toodyay. A vintage car race was held in Northam on Sunday, April 2, 2017. It was interesting to see the diversity of vintage racing cars, which competed in races.
Sadly, the suitcase had to be packed, as it was time to bid farewell to Western Australia on April 3, 2017.
On Monday morning, April 3, 2017 we left York for Perth Airport. Our afternoon Qantas flight left Perth at 220pm for the long 4 hour trip across the continent.
The Western Australian adventure was over for now. My bottle connections ensure that I will always return to Albany and Bremer Bay.
Anne  Field
Kogarah,Sydney
Websites:
annefield.net.au
annefieldauthor.com
You Tube Anne's Adventure