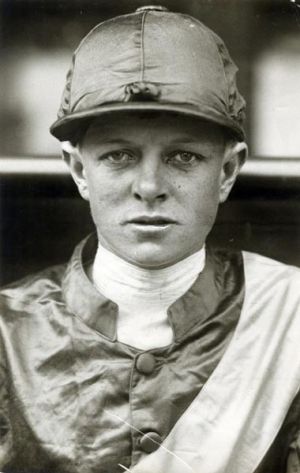 Edgar Britt, Australia's oldest living jockey  was born  on October 30, 1913. At age 9, he came to live in Oatley, attending Oatley Primary School.
The Renton family , Oatley residents , tell that the story that their grandfather,  Mr  Wally Fitzgerald, Principal of Oatley Primary School, encouraged   Edgar's  father to   have Edgar become a jockey.
Edgar left school  at age 13  to become apprenticed to Moorefield horse trainer, Mick Polson.  His first winner was  Gypsie King at Canterbury.  He then  gained second place riding Tea Miss at Moorefield.
In 1933, he went with Polson for a successful season in America. In 1935, he left the Australian turf  racing  scene  for ten years in India, then to ride in Ireland and Britain. He rode for 18 months for  King George V1,the Queen's father .
He returned to Australia in 1959, and became a racing journalist for The Daily Telegraph for 16 years.
Edgar returned to Oatley in 1983 for Oatley's 150th anniversary celebrations.
His legacy in Australian racing is outstanding with more than 2000 wins on four continents against  quality horses and champion jockeys .
Edgar died on 28 January 2017
Anne Field
Kogarah
Author of History of Moorefield Racecourse (1888-1951)